Trusted Timestamp Service for Corporations and Developers
DigiStamp's secure timestamps produce standards-compliant, legal evidence that data files existed at a point-in-time and have not been altered since. Get third-party witness of any data in seconds. Include our timestamp service as a regular part of operations. DigiStamp is a Trusted Timestamp Authority -- TSA.
Benefits of our SecureTime trusted timestamp service:
Comply with IETF RFC 3161 and e-signature practices defined in CFR-11 and eIDAS
Never need to transmit your data outside of your environment
Store the trust timestamp on your systems for easy verification
Use only certified and audited PKI systems to remove the possibility of human tampering
Has geographically-separated, redundant systems to provide 99.99% uptime for 15+ years
Archive the timestamp to enable Timestamp Renewal and keyless Hash-chain linking, mitigating risks due to advances in quantum computing -- Unique DigiStamp Advantage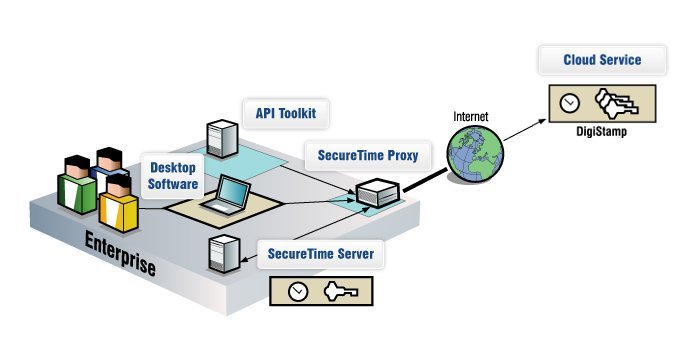 SecureTime Component
DigiStamp Products and Services
Core of our operations is our cloud TSA timestamp service providing IETF RFC 3161 timestamps and RFC 6283 "Evidence Records for Long Term Archiving" (XMLERS). Prices and account setup

are here.

More information

available here

..

We rarely sell timestamp servers because there are two key advantages to using the cloud-based service: cost and ease of access. In a few cases, in-house timestamp servers may be preferred. More

details here

.

Use the API toolkit to access the trusted timestamp service with your internal systems, such as work flow and data collection. DigiStamp's integration toolkits historically were the primary method of adding timestamps to your existing business applications. Due to wide acceptance of timestamping standards, this function is supported in software like

BouncyCastle

. DigiStamp's API toolkit is free for our customers. More

details available here

.

The Proxy allows many employees and internal systems to securely share access to DigiStamp's trusted timestamp service. Individual workstations access timestamp servers using a customized URL like http://timestamp.companyInternal.com and require no authentication or special software. The Proxy could even be reconfigured later to use an on-site timestamp server or a different timestamp vendor, and there would be no impact to existing users.
Our customers include: